Keep an eye out for these signs to know when you've found the retirement community that the best fit for you.
What makes a retirement community feel like home? Is it location, being close to a vibrant urban area with plenty of exciting activities and recreation opportunities? Is it the apartment space itself, where you can picture relaxing on your private balcony or cooking a nice meal?
There is definitely a "gut feeling" once you've found the best retirement community to call home. But there are also tangible items to keep top of mind as well, so you'll know when you've found the right place to settle.
Here are 6 signs you've found the right retirement community for you in Milwaukee, WI:
Convenience
Granville Heights Senior Apartments in Milwaukee, WI, offers everything you need to enjoy your retirement years without hassle. Select units offer spacious walk-in closets, with additional storage also available. Coin-operated laundry facilities are conveniently located on-site. Residents can stop by the Business Center for free internet access or make an appointment at our on-site hair salon for a cut and style.
Underground parking is also available so you can protect your vehicle from the weather and conveniently get out and see the city or run errands any time you'd like.
Value
The cost of owning a home and maintaining it can add up quickly, from lawn care to roof repair. When you move to affordable market-rate senior apartments in Milwaukee, WI, everything is covered in one convenient monthly fee—including heat, water, and municipal services. Kitchens come furnished with quality appliances.
The recently renovated Granville Heights Senior Apartments also offers residents exclusive discounts on cable services, adding up to additional cost savings. You could save thousands of dollars every year—and save yourself the hassle of worrying about repairs or paying multiple bills each month.
Amenities
As a resident of Granville Heights Senior Apartments, you can stay active year-round without ever having to leave home, thanks to our convenient on-site fitness center.
Our community spaces, including the community room/kitchen and community patio, are available for you to use free of charge. You're welcome to invite family and friends over for a casual visit, or to celebrate a special occasion. Select homes also offer a balcony or private patio where you can step outside for a breath of fresh air.
Social activities
Catch up with your neighbors and make new friends at any number of social events on the calendar at Granville Heights. Regularly planned activities include bingo, crafting sessions, seasonal potlucks, and holiday gatherings. You might also pop by the community room for a casual chat over tea or coffee or a book club discussion. Or, when you're looking for some quiet reflection time, visit the chapel/meditation room.
You're also welcome to bring your furry friends along with you to Granville Heights, as our retirement community is cat-friendly!
Location
There are so many fun and exciting things to see and do in Milwaukee, WI, close to our retirement community. Whether you're interested in unique neighborhoods, trendy shops, dining options, sporting events, casinos, museums, or dozens of picturesque county parks, there's something nearby for everyone!
Granville Heights Senior Apartments are centrally located within two miles of everything you might need for your daily living, including grocery stores, pharmacies, and restaurants, as well as churches and senior centers.
Security
Residents can rest easy knowing professional on-site management and 24-hour emergency maintenance staff will resolve any issues that arise. Our grounds are smoke-free to promote the health and wellness of our residents and their guests. Mailboxes are located within the building, and access to common entryways is controlled for your protection and peace of mind.
Come take a tour and see for yourself why Granville Heights Senior Apartments is the best retirement community for you in Milwaukee, WI. Contact us today with questions or to schedule a tour online or at 414.357.6740.
More Articles to Explore
8 Facts You Didn't Know about Granville Heights Retirement Community in Milwaukee, WI
If you're ready to make the move to a retirement community in Milwaukee, WI, check out these interesting facts you probably didn't know about Granville Heights Senior Apartments.
7 FAQs about Granville Heights 55+ Community in Milwaukee, WI
Below we'll cover some of the most frequently asked questions about Granville Heights so you can get a better sense of what it's like to live here.
5 Benefits of Independent Living Communities in Milwaukee, WI
Whether you enjoy the impressive cultural and art scene or the countless number of local parks, Milwaukee has a little something for everyone.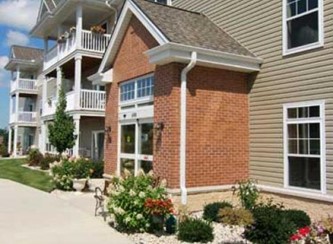 5 Tips for Moving to Low-Income Senior Apartments in Milwaukee, WI
Consider these five tips for your move from a house into low-income senior apartments in Milwaukee, WI.